(Thursday, 7/21/11)
I got up super early this morning to take Chewie for a long walk because we were going to be gone most of the day. We were up way before the sun.
The only shadows were made by the streetlights.
Once home I made hearty breakfasts for the boys and for me.
Then we headed out to Busch Gardens. I had Ashton R. and Joey Z. in my car with my boys.
Valarie had Jillian and her friend Alyssa in her car. Here's the whole crew (minus me), waiting for the tram from the parking lot…
We headed towards Montu first thing.
Cal was hesitant to ride a roller coaster with loops, but he was kind of peer pressured into it by Joey and Ashton. Montu is a pretty big coaster for your first one with loops and your feet are dangling.
Mack wasn't tall enough for this one, so he spectated with Val and me. We got to the park pretty soon after it opened, so the lines had not gotten long yet. We didn't have to wait too long before they came shooting by us.
While we waited for them to come out the exit, Mack was climbing the walls. Literally.
We regretted that we didn't have a baby we wanted to get rid of.
Finally they came out of the exit. Cal's reaction…
Next we went to the Sand Serpent, which Mack was tall enough to ride. It is an older coaster which used to be called the Cheetah Run, but now they have a newer bigger coaster called The Cheetah, so they renamed the older one. I didn't take a photo there, but Mack loved it and they got to ride it twice in a row since there was no line.
We did get to see the baby Cheetah they have next to the Cheetah coaster. He shares a habitat with a dog. It was so cute to see them chasing each other around in there.
Here's a story and cute picture from the St. Pete Times about them…
Cal said he was feeling kind of queasy after Montu so he didn't want to ride the next big coaster (can't remember the name), so while the other kids went to do that the boys and I headed to the bumper cars.
Mack wasn't tall enough to ride alone, so I went with him. We actually ended up having to switch seats because of the stupid rules, but I took this photo first.
Mack loved ramming our car into his brother's.
Here's what Val was doing while the other kids were riding whatever big coaster they were on…
Once we reconvened we decided to head for a water ride to cool off.
And boy did we. We ended up riding this twice because of the short lines and by the end Valarie and I were thoroughly soaked.
The boys all got pretty wet too, but the girls, who were wearing only bikinis on the ride, hardly got wet at all. Figures.
At this point we let the teenage girls go off on their own for a bit and we let the boys all play in the suspended rope climbing area for about a half hour. Then we met back up for lunch at the Desert Oasis. I think this used to be called the Beer Hall back in the day. So much of the kitchy beer-soaked atmosphere of Busch Gardens is gone now that Anheiser-Busch no longer owns the park. It's kind of sad. They used to give away free beer, but not anymore. They still have a cheesy stage show at the Desert Oasis, though. We got there just in time to see the end of "YMCA" on stage.
Lunch…
I had a really good hand-carved turkey sandwich and the most wonderful tasting diet Pepsi. The boys had the kids hot dog on a souvenir plate. I got one with fries and one with carrots and they split each. I also let them get soda (Mack chose fruit punch) as their kid-sized drink that came with their kid's meal. See, I'm not so mean.
After lunch the bigger kids wanted to go ride Sheikra (Cal didn't want to do another loopy coaster right after lunch, but he went with them anyway), and Mack and I went to ride the Scorpion which was right next to the Desert Oasis where we had lunch. It is an older, smaller coaster with one loop. The line wasn't too bad for this one.

Mack was really excited to be riding his first real roller coaster, especially one with a loop!
But in this picture at the top of the big climb he looks kind of nervous.
In the end, though, he totally loved it.
He says he is now over his fear of roller coasters with loops.
I'm not so sure about Cal, though. When Mack and I got over to Sheikra, he was still sitting there with Val waiting on the other big kids. I convinced him to ride the Skyride with Mack and me since the other kids still weren't back.
It was really nice and relaxing and we got a great view of the whole park, especially the animals.
We were able to stay on the Skyride through the first stop because there was no line. However, at the next stop they made us get off because there was a huge line there. I had thought we could ride it back to where we started (near Sheikra), however we ended up having to get off on the complete opposite side of the park. So we had a long walk back to Val. At least there were lots of interesting things to see on the way.
Mack took this one…
When we got back to Val the kids STILL weren't back from riding Shiekra. We were getting worried about them. Mack and I decided to ride the log flume while Cal and Val continued sitting and waiting. The log flume ride was right there where we were waiting, but Cal just wanted to wait on his friends. There was some intermittent thunder (which ended up being why the other kids took so long on Shiekra), so the log flume was closed temporarily and most people got out of the line. Mack and I just stayed in the line since we were just going to be waiting with Valarie anyway. So when the ride re-opened we were very near the front! We rode it (and got soaked again) and got back out to where Val and Cal were before the other kids showed up. Cal really missed out on rides after lunch due to his not wanting to ride the big coaster with the other kids and not wanting to ride the log flume or Scorpion with Mack and me. But that was his choice. He got to sit around with Val for several hours. (sorry kid…I tried to talk you into riding with us!)
The other kids finally showed back up and went to get in line for the log flume. Val and I continued sitting and waiting and people watching. So many interesting people. I couldn't believe the women walking around in stacked high heels. Craziness. I tried to get photos but couldn't manage it without being obvious. I did get this one of Thing One.
There were tons of groups of tourists from Europe and South America like this one…
I don't know. An amusement park would not be my first choice when visiting a foreign country, but whatever.
The log flume ended up shutting down again because of thunder and the kids never did get to ride it. The boys gave up and got out of the line. By now it was time for us to go, so we made the (unhappy) girls get out of the line and we headed back towards the exit. On the way Gwazi (another big coaster) was open, so the Z's and Ashton and Alyssa decided to ride it. I took my boys and we headed on out.
Despite the heat and crowds we all had a fun day at Busch Gardens. We were all beat.
I dropped Cal off at my friend BJ's house for a sleepover with her twins Ben and Jack (yes, this is the same house I had a sleepover at in my Moms Gone Wild post a short while ago).
Chad was also having a sleepover poker night at one of his friend's house tonight, so Mack and I made our own special sleepover. After dropping Cal off we picked up a pizza from Anytime Pizza (sorry Tour de Pizza, but you were not on our way home) and I also got their house salad which was awesome. That's a plum there on Mack's Busch Garden souvenir plate with his pizza.
Mack and I watched Short Circuit on Netflix streaming.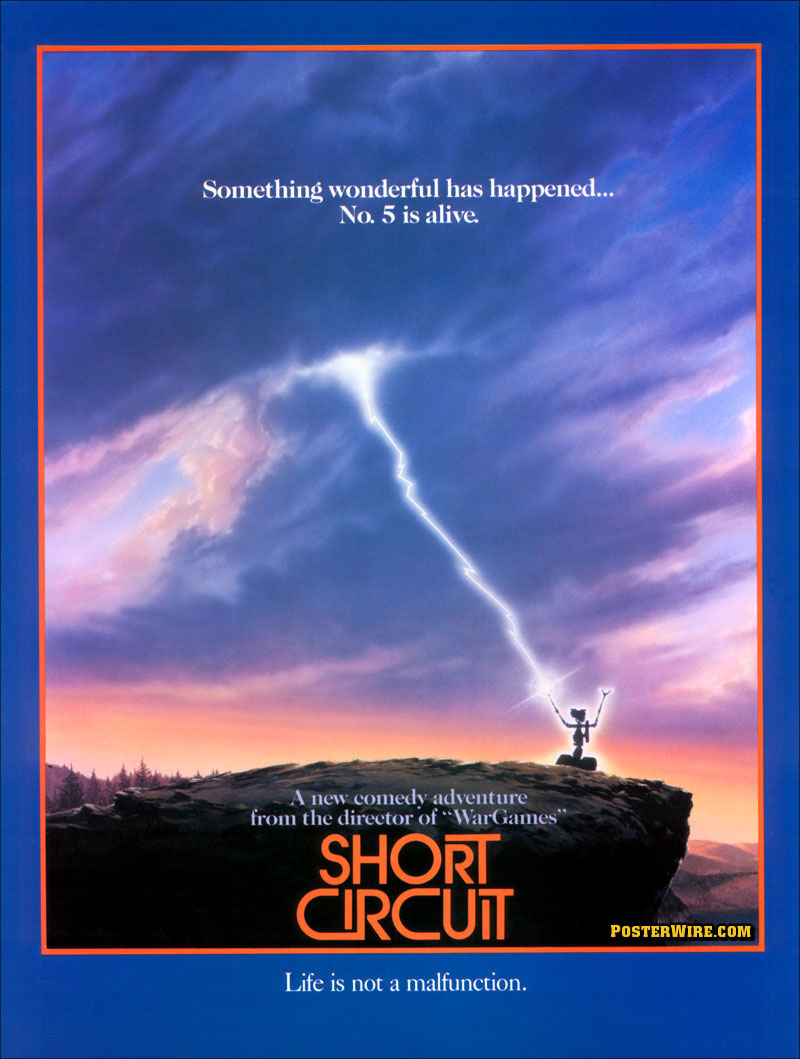 Ah, 1986 Ally Sheedy and Steve Guttenburg…what could be better. And they both have the same hairstyle in the movie!
The soundtrack and clothes are priceless. Mack thoroughly loved it. He laughed, he cried, he applauded at the Hollywood ending. So good. How could it not be with dialogue like, "Hey laser-lips! Your mama was a snow blower!" Good times. We definitely need to watch Short Circuit 2 soon.
I'm exhausted. G'night!